Newsflash:
Essential maintenance to our IT systems
Please note that from Saturday 21 July at 6pm until Monday 23 July at 7am we will be undertaking necessary in depth maintenance on our I.T. systems and you may see a disruption to service. During these dates, we ask that you utilise the website for information only and do not complete any forms or requests. During this maintenance we may also have to undertake a system failover test. We apologise for any inconvenience caused.
Holocaust Memorial Day 2017 - round up of activity in Shropshire
Main focus
The main focus of our Holocaust Memorial Day activity in Shropshire is to grow a cherry tree orchard of remembrance with schools across Shropshire.
The trees are the Black Oliver variety, an old variety of the West Midlands, chosen in local welcome to all communities, and to the birds that we hope will enjoy the fruit in years to come. They're sourced from the Incredible Edible Shropshire Council project for fruit trees that contribute to a sustainable natural environment.
As we start to grow more trees across Shropshire with our local children, our hope is that the children themselves, as they grow up, will care for and look out for the trees and for each other, and remember the messages of the Holocaust and other genocides.
How we're doing it
We started doing this in 2015, when we planted a first cherry tree at Mereside Primary School in Shrewsbury, in the centre of our very large county, to mark the 70th anniversary of the liberation of Auschwitz.
We then planted a tree at Woodside Academy in Oswestry, in the north of the county, in 2016, linked to the theme that year of "Don't Stand By".
We choose a primary school to work with each year, and we make use of the resources that are developed along the way. This includes a primary school resource pack that Mereside developed, and a quote from Anne Frank, which Woodside have put on a plaque to mark their tree, and which we've recommended for others:
"How wonderful it is that nobody need wait a single minute before starting to improve the world"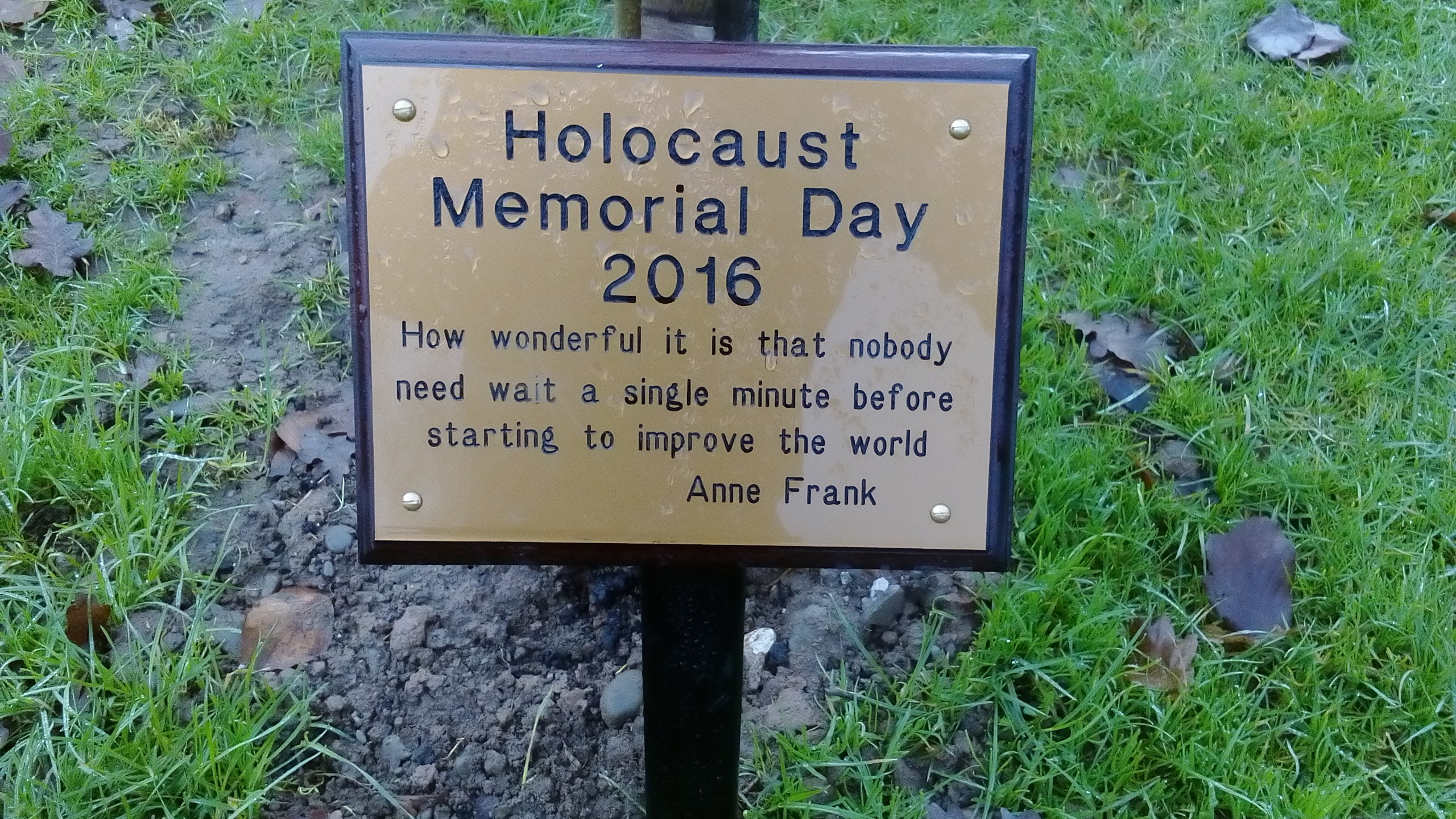 We hold interfaith ceremonies to mark the planting of each tree at a primary school, with a special Shropshire prayer that we developed in 2015, the involvement of people from the Jewish, Muslim and Christian faith communities in planning and conducting the ceremonies, and the lighting of candles, together with reflections from the pupils taking part. Our councillors also take part as community leaders, to share their own messages with young people about the importance of acts of kindness and respect for each other.
Overview of Activities in 2017
In 2017, we planted a tree with a third primary school, this time at Bishop Hooper CofE Primary School at Ashford Carbonell in the very far south of the county...
We held a day of ceremonies, involving not only the planting of the third tree to mark the theme "How can life go on?", but also the measuring of the two cherry trees planted in 2015 and 2016, which are flourishing. This meant that we travelled the entire length of the county with the faith community leaders.
Mr Mark Michaels from the Jewish community and Imam Sohayb Peerbhai from the Muslim community talked to the children at each school about children settling in a different land, linking the Kindertransport and Syrian refugee families in the present day in Shropshire to the national theme. There were also reflections from some of our councillors, and the lighting of a candle, as well as the special Shropshire prayer.
We also had the opportunity to plant more trees this time, and five secondary schools came forward to say that they would like to plant a tree as well. The secondary schools held their own ceremonies, using the material we had provided as a council, as well as their own focus for their school.
The secondary schools involved are:
Belvidere School, Shrewsbury
Church Stretton School, Church Stretton
Corbet School, Baschurch
Priory School, Shrewsbury
Tuition, Medical and Behaviour Support Services (Shropshire-wide service)
Their tree planting ceremonies involved:
Candle lighting
Reflections by pupils following webcasts; poetry and book extract readings
Reflections by Shropshire Council councillors
Survivor and child-of-survivors talks
Survivor webcasts
Class work; workshops;  and assemblies
Belvidere School decided to plant their tree next to trees that commemorate former pupils who died, and Corbet School linked the day to a recent visit by year 11 pupils to Krakow. There was a Holocaust Survivor visit to Church Stretton; someone who was a child of survivors visited the Priory; and Tuition, Medical and Behaviour Support Services involved students from across Shropshire locations in planting their tree at their central base.
We now have eight trees growing across Shropshire. We've asked the schools to measure them, and will see how they all get on in the winter. We were very pleased to also be invited to the national launch of the 2018 theme, where Belvidere School and Mereside School represented the county.
The 2018 theme will be "The Power of Words".