Christmas quiz - do you know your council?
Period:

04 December 2017 - 19 January 2018

Status:

Closed

Audiences:

Everyone

Topics:

Big Conversation

Type:

Public
Do you know how many kilometres of public rights of way the Shropshire Outdoor Recreation Team protects, or what happens to your rubbish after it's collected? Test your knowledge about Shropshire Council and find out how your council tax is used by taking part in a fun Christmas quiz. 
Each person taking part will get their own score and more information about the answers at the end of the quiz. Naming your nearest market town will allow us to tot up the scores for each town and surrounding area and post a league table on our website when the quiz closes in January. Can you help your town beat the rest?!
Feel free to encourage friends, relatives and colleagues to get involved and see who knows the most, whilst at the same time helping us to understand which services people know a lot about and where more communication would be helpful. To take part just click on the 'How to get involved' tab.
For more information on the services we provide you can open the links on this page, one to a Powerpoint presentation and the other to a webpage.
The Big Conversation was launched in November 2015. Its overall aim is to involve as many people as possible to understand the council's financial challenges and say what's important to them.
Wishing you all a merry Christmas from Shropshire Council.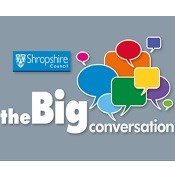 Documents
Data protection
Information collected in our surveys will only be used by us (Shropshire Council) to inform the immediate and future provision of our services. The information you provide will be kept confidential in accordance with our
Privacy Policy
. It will not be shared outside of Shropshire Council. Information collected via our online surveys (hosted on the Surveymonkey website) will be stored on SurveyMonkey's servers in the United States of America and SurveyMonkey gives an undertaking never to disclose the survey questions or your responses to others without permission.