Countryside
Coronavirus: visiting the countryside
Shropshire's stunning countryside has remained open throughout the lockdown. From Severn Valley Country Park and the Shropshire Hills AONB to The Mere and Nesscliffe Hill, our natural resources have been a lifeline for people right across Shropshire during the coronavirus pandemic, offering a safe, clean space to get some fresh air and exercise.
This is why we're asking everyone to behave responsibly when visiting. So what does this involve?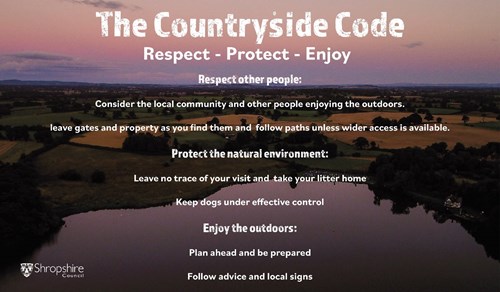 Staying safe in the countryside
The risk of the coronavirus being passed on to others outdoors is considered to be low as long as people maintain social distancing.
When visiting the countryside, please make sure you:
Follow social distancing guidelines and stay 2m apart from people outside your household or support bubble
Take hygiene precautions when you're outside
Wash your hands as soon as you're back indoors
Take hand sanitiser with you in case there are no handwashing facilities.
You can meet in groups of:
Up to two households (your support bubble counts as one household), indoors or outdoors
Up to six people from different households, outdoors
This national guidance applies to England.
Respecting Shropshire's countryside and other people
We want everyone to be able to safely enjoy their visits to Shropshire's beautiful countryside. To help, we have put up signs across our sites to give you some tips about how you can play your part.
Take all of your litter home
Don't use barbecues as they risk causing wildfires
Keep dogs under effective control and on a lead when you're around farm animals - read further guidance for pet owners
Leave gates as you find them and follow instructions on signs
Use footpaths and follow signs where they suggest alternative routes
Wildlife, including nesting birds, may have moved into new areas. Land managers may have provided extra protection for wildlife. Be vigilant and comply with these protective measures so that you don't disrupt the local wildlife.
For more information, visit the government website, or to find out more about where you can visit go to the Shropshire's Great Outdoors website.