Autism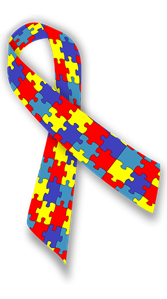 According to the National Autistic Society approximately 1% of the population, (that's 700,000 people), are on the autism spectrum in the UK. If you include families, autism is part of the daily life of 2.8 million people. Shropshire County currently have approximately 3,500 people recorded as being on the autistic spectrum. Therefore, you are not alone. This webpage has been designed to help and support you and provide information and advice that may be available elsewhere. If that is the case, we will signpost you to the relevant information.
What is Autism Spectrum Disorder (ASD)?
Autism is a lifelong developmental disability that affects how people perceive the world and interact with others. Autistic people see, hear and feel the world differently to other people. If you are autistic, you are autistic for life; autism is not an illness or disease and cannot be 'cured'. Often people feel being autistic is a fundamental aspect of their identity.
Autism is a spectrum condition. All autistic people share certain difficulties, but being autistic will affect them in different ways. Some autistic people also have learning disabilities, mental health issues or other conditions, meaning people need different levels of support. All people on the autism spectrum learn and develop. With the right sort of support, all can be helped to live a more fulfilling life of their own choosing.
Find out how many people are autistic, how autistic people see the world, how autism is diagnosed, and how you can help".
Select this link for the easy-read version." (From National Autistic Society 2020)
There are many different ways a person can be affected by ASD. Males and females frequently present differently. The four main areas of difficulty are:
Social interaction (difficulty with social relationships)
Social communication (difficulty with verbal and non-verbal communication)
Social imagination (repetitive behaviour and/or difficulty predicting outcomes or other people's reactions)
Sensory difficulties - people with autism may experience over or under sensitivity to sounds, touch, tastes, smells, light or colours.
Autism is a lifelong neuro-developmental disability. The exact cause of autism is not known. According to the National Autistic Society (NAS), there is strong evidence to suggest autism can be caused by a variety of factors which lead to the brain developing differently. There is also evidence to suggest genetic factors play a role and these genetic factors can be passed from parents to children. What we do know is autism is not caused by the way children are parented. Studies have also shown that vaccines like MMR do not cause autism. Because it is not an illness or a disease it, therefore, cannot be 'cured'.
Being autistic can bring with it special abilities or gifts as well as difficulties so people often feel that being autistic is a fundamental aspect of their identity.
Conditions that come under the autism spectrum
Over the years, many different diagnostic labels have been used, such as autism, autism spectrum disorder (ASD), autism spectrum condition (ASC), classic autism, Kanner autism, pervasive developmental disorder (PDD), high-functioning autism (HFA), Asperger syndrome and Pathological Demand Avoidance (PDA). This reflects the different diagnostic manuals and tools used and the different autism profiles presented by individuals. Because of recent and upcoming changes to the main diagnostic manuals, 'autism spectrum disorder' (ASD) is now likely to become the most commonly given diagnostic.
Read more about different diagnostic profiles, terms and criteria.
How will I know if a person is autistic?
You probably will not be able to tell just by looking
"The outward appearance of autistic traits should not be the measure of the degree to which a person is autistic"
(Trevor Powell)
An autistic person may have any job or profession.
People may keep their autism private for fear of prejudice and lack of understanding. It's important to remember that a number of autistic people may also have a specific learning or cognitive disability. Some people may need care and support 24 hours a day.
Interests and routines
Some people have a small range of, often solitary, activities which absorb them. Many people like predictability and have set routines. Change, especially if not planned, frequently causes anxiety. Unstructured time, like holidays, can be stressful. Some people find making decisions and choices difficult. People may also have very fixed ideas and struggle to think about things in different ways or to acknowledge that other people have a right to different opinions.
Legislation and Statutory Guidance
There is a range of Legislation and Statutory Guidance on autism:
Autism Act (2009) the only disability-specific law in England
Equality Act (2010) - employers must make reasonable adjustments to avoid disadvantage to a disabled person
Think Autism (2014) revised strategy from 2009 Act
Care Act (2014) autism is the only condition requiring specialism
Transforming Care (2015) to move people with autism or learning disability out of hospital settings
Think Autism Strategy Governance Refresh (2018) revising strategy into 5 domains:
Measuring, understanding and reporting needs of autistic people:
Workforce development:
Health, care and wellbeing:
Specific support:
Participation in local community
National Autism Strategy – due to be released 2020
Strengths
There are many positive traits common to autistic people such as honesty, loyalty, attention to detail, original thinking, and good understanding of systems. As we understand more, we are seeing how autistic people have excelled in many fields including sport, music, arts and science.
Uneven abilities
Some people have great skills, ability and knowledge in subjects that interest them but struggle with everyday tasks like crossing a road, planning a meal or managing a new journey on public transport.
What are the characteristics of ASD?
The characteristics of autism are different from one person to another. But, for a diagnosis to be made, a person will usually be assessed as having persistent difficulties with social communication and social interaction and will show restricted and repetitive patterns of behaviour or interest. Below are some of the characteristics shown by children and adults with autism:
0-4 years (Pre-school children)
delayed speech development (for example speaking less than 50 different words by the age of two), or not speaking at all
not responding to their name being called, despite having normal hearing
rejecting cuddles initiated by a parent or carer (although they may initiate cuddles themselves)
avoiding eye contact
repetitive movements (such as flapping their hands, rocking back and forth, or flicking their fingers)
playing with toys in a repetitive and/or unimaginative way (for example, lining blocks up in order of size or colour, rather than using them to build something)
5-16 years (School aged children)
avoiding eye contact or using spoken language
seeming to talk "at" people, rather than sharing a two-way conversation
taking people's speech literally and not understanding sarcasm, metaphors or figures of speech
not being aware of other people's personal space, or feeling extremely uncomfortable with people entering their own personal space
little interest in interacting with other people, or having few close friends, despite attempts to form friendships
rarely using gestures or facial expressions when communicating
repetitive movements (such as flapping their hands, rocking back and forth, or flicking their fingers)
playing in a repetitive and unimaginative way, often preferring to play with objects rather than people
developing a specific interest in a particular subject or activity
preferring to have a routine and getting very upset if there are changes to their normal routine
Post 16/Adults
Some people with autism go through life without a diagnosis, but often feel they don't quite fit in and learn how to cope with life in their own way. However, an increasing number of people are diagnosed with autism in their teenage years or adulthood, often in relation to learning, social or emotional difficulties. For example, an individual might experience:
difficulty using and understanding verbal and non-verbal language (such as gestures, facial expressions and tone of voice, as well as jokes and sarcasm)
difficulty recognising and understanding people's feelings and managing their own
difficulty understanding and predicting other people's intentions and behaviour
You can find out more about the different characteristics of autism on the National Autistic Society, Autism Speaks and NHS websites. If you are concerned about your child's development, notice any of the signs of ASD in your child, yourself or adult, speak to your GP or health visitor for more information.
Why a spectrum?
Autistic people can be so different from each other that we think about autism as a spectrum, rather like a rainbow. Autism can affect anyone whatever their abilities, but all autistic people share the social and sensory difficulties mentioned earlier. Being autistic will affect each of them in different ways. There is no such thing as a "typical" autistic person and this is why people and behaviours that are NOT autistic are known as "neuro-typical"
Remember - When you have met one person with autism, you have met one person with autism.
Asperger Syndrome is a presentation of autism that describes people of average or above average intelligence who seem to have fewer problems with communication but still have difficulties with understanding and processing language. Some autistic people are affected by the additional complications of specific learning disabilities, mental health issues or other conditions. All of these different elements mean that everyone on the spectrum will need some level of support depending on their individual needs. With the right sort of support, all can reach their optimum outcome.
If you would like to talk to anyone regarding Autism please contact us on: 0345 678 9044 or email firstpointofcontact@shropshire.gov.uk
We have put together some links which you may find helpful:
Local organisations (volunteer, statutory and private) offering advice and support to families
All In
Autism West Midlands
Autism West Midlands Connect
Cheshire Autism
Cineworld, Shrewsbury
Information, Advice and Support Service for Shropshire (previously Parent Partnership Service)
Local Offer
Oasis Group - Parent and Carer Council Shropshire
Parents Supporting Parents
Shropshire Autism Hub
Shropshire Autonomy
Shropshire Disability Network
STACS – Shropshire & Telford Asperger Carers Support
West Mercia Police
National organisations offering advice and support to families
ASD Friendly
ASD parent and carer pack
Autism Education Trust
Autism West Midlands – books and resources
Books
Care Quality Commission's Right Support, right care, right culture
Child Autism UK
Early Bird Plus
Education Autism Education Trust
Keeping Children Safe from Abuse - NSPCC
Mindreading DVD
National Centre for Mental Health Autism Spectrum Disorder
NHS Choices – Autism Pages
NICE guidelines on autism
Patient info – autism pages
Research Autism
Royal College of Psychiatry information
Technology
The Autism Directory
Travel
Wrong Planet
YoungMinds