Scams and nuisance calls
Every year thousands of people fall victim to professional fraudsters who set up well-organised scams to steal personal and financial information. This is a multi-million pound industry with new scams being developed all the time. It is therefore extremely important to be vigilant and aware of when something is likely to be a scam.
Scams can take many forms including cold calls, text messages, emails and letters and can often appear genuine. They normally involve telling the victim they have won a competition, often with a prize of cash, jewellery or other high priced items.
Unfortunately most of these competitions promise everything and deliver nothing. Very often they ask for money to be sent up front in order to receive the prize, and the victim either receives nothing, or a prize which is worth next to nothing.
As soon as you provide your details to one of these scams they will be passed on to other con men and you can soon find yourself inundated with junk mail and nuisance calls.
You can find out more about common types of scams from Action Fraud and Citizens Advice, where you can also find out the best ways to protect yourself from scams and fraud. The telephone number for the Scams Action line is 0808 250 5050. Calls are free from mobiles and landlines.
How can you recognise a scam?
There are some key questions you can ask yourself to help recognise and avoid scams:
Does it seem too good to be true?
Is the offer unsolicited?
Am I being asked to send money up front?
Do I have to respond immediately or urgently?
Do I have to give my bank account or bank card details?
Do I have to send money to a PO Box or by money transfer, Ukash voucher or similar?
Am I being asked to keep it a secret?
 If the answer to any of these questions is yes then it is probably a scam.
How can you protect yourself from scams?
There are some simple steps you can take to protect yourself from scams and fraud:
If the answer to any of the above questions is 'yes' DO NOT RESPOND
Find out more about phone services that can help tackle nuisance calls
Register with the Telephone Preference Service
Consider investing in a call screening device to stop unknown numbers calling you – there are several of these devices available on the open market
If you think you have received communication which may be a scam or fraud you can report it directly to Action Fraud or Trading Standards. If you are worried that you or someone you know may be a victim of scammers, or you need further advice, you can also contact us.
To support the work of National Trading Standards, Community Protection are now a Friends Against Scams partner.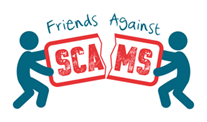 Friends Against Scams is designed to inspire action, highlight the scale of the problem, change the perceptions of why people fall for scams and make scams a community, regional and national topic.
By attending a Friends Against Scams awareness session or completing the online learning, anyone can learn about the different types of scams and how to spot and support a victim. With increased knowledge and awareness, people can make scams part of everyday conversation with their family, friends and neighbours, which will enable them to protect themselves and others.
For more information, please contact Community Protection or visit the Friends Against Scams website.