Keep on Moving Shropshire
The Festival took place in May 2022. It was a partnership project undertaken by Energize, Age UK, Taking Part, Shropshire Council Public Health and Shropshire, Telford and Wrekin CCG. The purpose was to help people in Shropshire, of all abilities, connect to fun and healthy activities near them.
The festival began on 8 May with a launch event at the Shrewsbury Sports Village which offered a range of activity taster sessions, inspirational talks and a market place with voluntary organisations, activity and support organisations. You can listen to the excellent talks and see a list of the tutors and organisations that took part. Through the rest of May community partners offered free or discounted taster sessions right across Shropshire. There was also a Keep on Moving Mayfair event in Church Stretton at the Mayfair Centre, which included walks, Egyptian dance and yoga.
Our sponsor for this event was Quest, who assist people of all ages and abilities to unlock their potential for movement and adventure. They do this with innovative equipment, through encouragement and by sharing their experiences.
Whilst we're planning the next festival here are some excellent virtual creative workshops offered by Age UK in their Age of Creativity Festival 2022. Have a look at their online events and see if there's anything that moves you.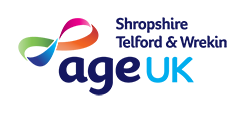 How can you get involved?
Use the boxes below to find out how to...