Shropshire Libraries Creative Arts Summer Programme video
06 December 2016
Last updated at 02:07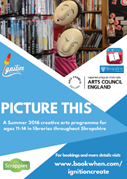 Shropshire Libraries worked with Shropshire based arts organisations Ignition and Scrappies, funded by Arts Council England, during the summer 2016. 
We offered the creative arts programme 'Picture This' to young people in the six main libraries in Shropshire. 
This unique, high quality artistic experience engaged 60 young people to take part in a wide range of creative activities such as set building, visual arts and drama over a two day workshop in each library.  The work was shared at the end of each workshop and an exhibition toured the libraries during October and November.
Take a look at a short video created by Ignition to see a summary of the project and to see the wonderful work and enthusiasm of the young people.