Drawing and Painting at Shropshire  Museums Collection Centre, Ludlow 2019-2020 with Angela Gladwell (M.A)
Event details
Price:

£100 per person per term

Venue:

Ludlow Museum Resource Centre
Buildings and other constructions
For this course, we will be looking at buildings around Ludlow, book reference and some hand building experiments. It is a practical course in drawing and painting suitable for all abilities, with individual tuition according to need.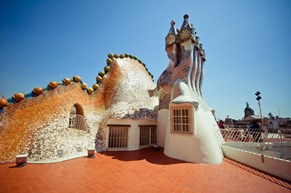 As well as drawing from our local vicinity the houses, the church etc (weather permitting), we will get inspiration from inventive architects like Antonio Gaudi with his use of the natural world in his designs ( enabling us to use some of the Museum collection), as well as Japanese, Indian, Chinese architecture and the wonderful vernacular buildings of different cultures.
Animal architecture can be part of our research as well.
Our usual approach is to spend the first term in making drawings and paintings from different sources to fuel our inspiration for the second term to make a drawing or painting based on these researches.
This can take the form of a straightforward depiction of a building that has been observed either in detail or the whole, interior or exterior, or make an imaginative composition that can take any aspect of the idea of a dwelling of any kind, a construction built for any purpose, with perhaps sculptural ornamentation and of course colour.
Where:
Shropshire Museums Resource Centre
7-9 Park Way
Ludlow
SY8 2PG
When:

Term One - Mondays 9 weeks starting 7 Oct to 2 Dec 2019
Term Two - Mondays 9 weeks starting 6 Jan to 9 March (no session 24 Feb) 2020
Choose from morning or afternoon sessions

Price:
£100 per term
To book: please contact museumeducation@shropshire.gov.uk or 01743 258881
7-9 Parkway, Ludlow, Shropshire, SY8 2PG