Activities and events
Summer activities programme
We will be working with local schools, voluntary and community organisation and childcare providers to run an exciting HAF programme this summer.
Watch our Easter/Spring promotional film
Our latest promotional film lets you see what's on offer at Easter - there really is something for everyone.
This video is also available with subtitles in the following languages:
How to access the free activities
All bookings for the Shropshire HAF programme are made directly with the organisations running the holiday clubs. All eligible families will be given an information leaflet by their school or professional they are working with. The leaflet will include a code that you can use when booking onto activity.
What you need to do
Use the what's on guide to find which holiday club is suitable for your child/ren. Electronic copies of the guide will be sent to you by your child/rens school.
Book onto an activity by contacting the organisation running the holiday club direct, using the contact details in the guide.
When making a booking, please quote your unique HAF code
If your child/ren has SEND (special educational needs and disabilities) or receives any extra help at school, before booking onto activity please contact the holiday club to discuss your child/s needs. (Please see the what's on guide for more information about SEND).
If you have any queries about your booking or the activities on offer, please contact the organisation running the holiday club directly.
If you've been referred onto the programme by a professional, please email HAF.programme@shropshire.gov.uk for more information.
The unique code entitles your child/ren to attend four sessions of free holiday activity in Shropshire during the weeks of 3 to 7 and 10 to 14 April 2023. Please don't use this code to book onto more than four sessions of activity or to book onto multiple programmes of activity with different providers, happening at the same time. This code is individual to your child/s school and is not transferable to other children.
About HAF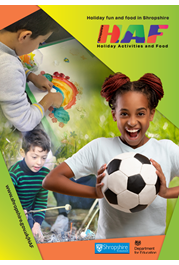 Shropshire HAF (Holiday Activities and Food) managed by Shropshire Council is an exciting programme of holiday activities.
Over the Easter/spring, summer and Christmas/winter holidays, schools, voluntary and community organisations and childcare providers are running activities.
There are free places available on the HAF programme for children and young people aged four (reception class age) to 16, who are eligible for benefits-related free school meals and for those who have been referred onto HAF by a professional. Find out more about eligibility from our 'Who can access the programme?' page
Subscribe to the HAF e-news
We're encouraging families and organisations interested in the HAF programme to subscribe to the HAF e-newsletter to receive helpful information from local partners and to learn about the HAF activity programme.