Solar photovoltaics (PV)
An environmental good news story
Solar generation is a good news story for Shropshire Council. Growing year on year since 2012, there are now 40 solar arrays installed across 30 sites. With a peak capacity of over 1MW aggregated across all sites, 5,319,971 kWh of energy has been generated. The total carbon dioxide emissions avoided since installation is nearly 3,000 tonnes. This is carbon dioxide (CO2) saved by not using electricity from power stations, which sometimes burn fossil fuels and release CO2 into the atmosphere.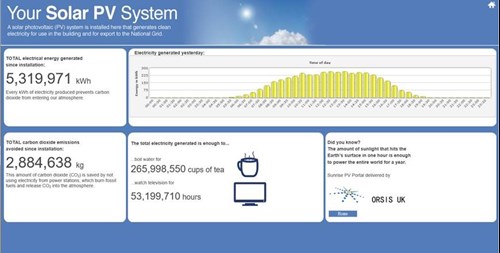 Solar Photo Voltaic (PV) has matured as a technology. It is a proven method of generating electricity, and produces zero emissions and zero noise. The annual and daily predictability of solar ensures generation can be forecast. 70% reduced manufacturing costs have lowered the install costs and increased grid-electric costs. Solar PV alongside other renewable energy types is now a key contributor to the UK's energy mix for zero carbon clean generation on a commercial scale, ground- and roof-mounted on businesses and domestic dwellings. Depending on the time of year and daily resource the UK's contribution to its energy mix from low carbon energy into the National Grid was 45% in 2018, and can typically vary between 30% and 70%.
SolarEdge Monitoring Systems
Our newer sites are on a system called SolarEdge and the following links allow you to monitor the live performance of these sites:
Greenacres Farm (live link to follow shortly)
ORSIS live monitoring of our solar PV
ORSIS is a web-based portal designed to provide all stakeholders with insightful information on the performance of the renewable energy installations. This includes daily, monthly and annual reports summarised in energy (kWh), financial (£), and carbon (kgCO2e) totals.
Sam Kirby-Bray (Sam.Kirby-Bray@shropshire.gov.uk or 01743 281009) is your administrator for ORSIS. He can provide a login for you and your service area. Once you have registered for the scheme you can login.
Help with ORSIS
The Orsis (UK) Ltd support team are always available to call (Monday to Friday 9am to 5pm (except bank holidays)), should you have any queries. They can be contacted on 01423 537088, or you can email support@orsis.co.uk. Additionally, please take a look at the guide for features, updates and system improvements.