SEND Strategy
'SEND, our priority and everybody's business'.
A SEND Strategy Workshop was held in May 2019 to gather the views of children and young people with special educational needs (SEN), parent carers and key partners from across Shropshire, including our schools and colleges and health, care and education professionals.   
This event was followed by a series of workshops organised by the Shropshire Parent Carer Council (PACC) to agree the collective vision for SEND and further refine the priorities that would set the strategic direction.  It is important that we are able to show the difference that we are making and to enable this to happen we have developed a set of measures intended to evaluate the impact of the strategy and its effectiveness in supporting the local area to achieve its identified priorities.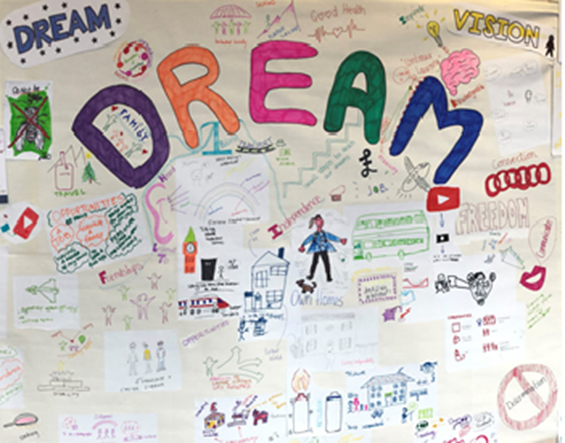 The Shropshire Local Area SEND Strategy 2020-2025 and Shropshire SEND Strategy - A plan for children and young people with extra support needs or disabilities (easy read) were launched in April 2021.

 

SEND Strategy                          SEND Strategy (Easy read)

The refreshed 5 year strategy for children and young people with special educational needs and/or disability (SEND) aims to eradicate inequality and realise the collective aspiration of the Shropshire SEND community to live a life that others have come expect. We want…
'"Shropshire children and young people with SEND to be healthy, happy and safe, and able to achieve their potential to lead a fulfilling life. We want them to have, and to expect, the same opportunities in life as other children and young people.''
Take a look at the Shropshire SEND Strategy newsletter for more information. Zara Bowden, (Chair for PACC) also hosted a podcast to discuss the strategy in more detail with Julia Dean (Shropshire Council's SEND Service Manager), Poppy Chandler (Principal Educational Psychologist), Sarah Thomas (Participation Lead for PACC) and Jennifer Griffin (Designated Clinical Officer for Shropshire/Telford & Wrekin Clinical Commissioning Groups.
We also would like to share with you responses from:
Karen Bradshaw, Executive Director of Children's Services, Shropshire Council
Tanya Miles, Executive Director Adult Social Care / Housing and Public Health, Shropshire Council
NHS Shropshire, Telford and Wrekin Clinical Commissioning Group (CCG)
Zara Bowden & Sarah Thomas, Parent and Carer Council (PACC)
We will produce and publish an annual report on the progress of the strategy to share how well we are doing in achieving our priorities and will be seeking feedback from children, young people and families to help us to understand both where our collective actions are making a positive difference and to identify those areas that require further attention.
We hope that our strategy is a useful document that has meaning and shows what we are aiming to achieve on behalf of children and young people with SEND in Shropshire.
Please email any feedback to local.offer@shropshire.gov.uk.  By providing us with feedback you are helping us to better understand the difference that we are making to the lives of children and young people with SEND and will inform our future action plan.