Shropshire Local Mobile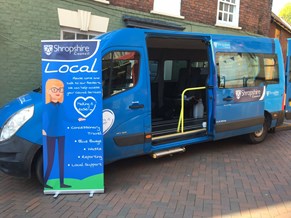 We've recently been trialling our Shropshire Local Mobile service in a number of towns across the county. This is in addition to our Shrewsbury and Ludlow Shropshire Local services that are open for face-to-face assistance.
From October and through winter, this service will then be offered from local libraries around the county, and the Mayfair Community Centre in Church Stretton, where a Shropshire Local adviser will be on hand between 10am and 2pm to offer advice, guidance and support on Shropshire Council queries. Times and dates for this service can also be found on this page.
| | | | |
| --- | --- | --- | --- |
| Friday | 24 March | Bridgnorth | Library |
| Tuesday | 28 March | Ellesmere | Town Hall |
| Thursday | 30 March | Oswestry | Library |
| Tuesday | 4 April | Market Drayton | Outside Argos. Frogmore Road |
| Thursday | 13 April | Oswestry | Library |
| Friday | 14 April | Bridgnorth | Library |
| Tuesday | 18 April | Albrighton | Crown Public House car park |
| Thursday | 20 April | Highley | Halo Severn Centre |
| Tuesday | 25 April | Oswestry | Library |
| Wednesday | 26 April | Bridgnorth | Library |
| Tuesday | 2 May | Broseley | Library/Medical Practise Car Park |
| Tuesday | 9 May | Bridgnorth | Library |
| Wednesday | 10 May | Oswestry | Library |
| Tuesday | 16 May | Market Drayton | Outside Argos. Frogmore Road |
| Wednesday | 17 May | Whitchurch | Bull Ring (pedestrian area) |
| Tuesday | 23 May | Bridgnorth | Library |
| Thursday | 25 May | Oswestry | Library |
| Tuesday | 6 June | Market Drayton | Outside Argos. Frogmore Road |
| Thursday | 8 June | Whitchurch | Bull Ring (pedestrian area) |
| Thursday | 15 June | Oswestry | Library |
| Friday | 16 June | Bridgnorth | Library |
| Tuesday | 20 June | Wem | Co Op car park |
| Thursday | 22 June | Shifnal | Broadway Street Opposite Library |
| Thursday | 29 June | Oswestry | Library |
| Friday | 30 June | Bridgnorth | Library |
| Tuesday | 4 July | Market Drayton | Outside Argos. Frogmore Road |
| Wednesday | 5 July | Whitchurch | Bull Ring (pedestrian area) |
| Thursday | 13 July | Oswestry | Library |
| Friday | 14 July | Bridgnorth | Library |
| Tuesday | 18 July | Church Stretton | Co Op car park |
| Tuesday | 25 July | Oswestry | Library |
| Friday | 28 July | Bridgnorth | Library |
| Tuesday | 1 August | Market Drayton | Outside Argos. Frogmore Road |
| Thursday | 3 August | Whitchurch | Bull Ring (pedestrian area) |
| Tuesday | 8 August | Oswestry | Library |
| Wednesday | 9 August | Bridgnorth | Library |
| Wednesday | 16 August | Ellesmere | Co Op car park |
| Tuesday | 22 August | Bridgnorth | Library |
| Thursday | 24 August | Oswestry | Library |
| Wednesday | 30 August | Shifnal | High Street |
| Tuesday | 5 September | Bridgnorth | Library |
| Thursday | 7 September | Oswestry | Library |
| Tuesday | 12 September | Market Drayton | Outside Argos. Frogmore Road |
| Wednesday | 13 September | Whitchurch | Bull Ring (pedestrian area) |
| Tuesday | 19 September | Bridgnorth | Library |
| Thursday | 21 September | Oswestry | Library |
| Thursday | 28 September | Albrighton | The Crown public house car park |