Unique Shropshire
Shropshire is a unique and diverse county, with a rich blend of natural, industrial and social heritage.
We have a diverse and flourishing natural environment. The variety of geology in Shropshire is unequalled in any area of comparable size in Britain, or indeed the world, and inspired the world-renowned geologist, Roderick Murchinson, which means that Shropshire place names are known globally and used by geologists across the world. Geology and the natural environment also inspired the county's most famous son, Charles Darwin, who was born and went to school in Shrewsbury.
Almost a quarter of the county is designated as the Shropshire Hills Area of Outstanding Natural Beauty, and we have three national nature reserves. We also have internationally important wetland sites, special areas of conservation (of European significance) and many sites of special scientific interest. Shropshire has the third longest rights of way network in the country, including long-distance paths such as the Shropshire Way and Offa's Dyke Path National Trail, and national cycle routes.
Being on the border between upland Wales and lowland England, Shropshire has had a complex and turbulent history.  This fascinating past is reflected in a wealth of archaeological sites of all types and periods, and in a rich collection of archives. The fascinating heritage of the Industrial Revolution is recognised in the two world heritage sites that partly fall within the Shropshire unitary area: The Ironbridge Gorge and Pontcysyllte Aqueduct and Canal, along with The Flaxmill Maltings, the world's first iron-framed building, paving the way for modern skyscrapers. Shropshire also has the third highest number of listed buildings and registered parks and gardens in the country, and over a hundred conservation areas.
There are many museums and heritage attractions, including RAF Museum Cosford, Severn Valley Railway, Ironbridge Gorge Museums, Ludlow Castle, Shrewsbury Castle, Attingham Park, Dudmaston Hall, Oswestry Hillfort, Carding Mill Valley and the Long Mynd.
Libraries form important hubs in the heart of communities, as do the many town and village halls, sports facilities and leisure centres. Significant sporting facilities include a 10,000-seat stadium, which is the home of Shrewsbury Town Football Club, Ludlow Racecourse and Lilleshall National Sports Centre.
Cultural vibrancy flows across Shropshire, from the distinctive county town of Shrewsbury with its major cultural assets, including Theatre Severn, Shrewsbury Museum & Art Gallery and Shrewsbury Market, to its sixteen market towns, each with fascinating culture and heritage, active cultural communities and distinctive stories to tell.
Farming diversification has nurtured a high-quality artisan food and drink sector, which in turn supports a highly independent retail and leisure offer for residents and visitors supported through food markets and food festivals.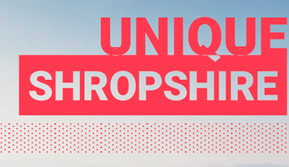 Bordering Wales, with good connections to major cities in the north, south, west and the Midlands, Shropshire has an enterprising and independent spirit that manifests in higher than average numbers of small businesses and self-employed people, and strong arts, music and creative industries, heritage, leisure and visitor economies - many with potential for growth. There's a rich diversity of arts provision, in particular visual arts and theatre, and the county is home to both locally and nationally significant organisations, venues and festivals supporting local artistic talent and attracting national and international artists. There's also a vibrant community events and festivals programme, with hundreds of regular cultural activities in Shropshire's annual events calendar, engaging large numbers of people and attracting inward investment.
There are five Arts Council England National Portfolio Organisations (NPO) in Shropshire: Arts Alive, the Association of Independent Museums, DASH (Disability Arts Shropshire), Meadow Arts and Pentabus Arts, all of whom are making a significant impact.
There's also a vibrant cultural community, with many dedicated volunteers driving a rich and varied culture offer across the entire county. The county has a proportionately higher older population than the national average, which contributes to the strong and highly skilled volunteer base. This also presents some longer-term challenges around health and wellbeing. There are established programmes of work, organisations and partnerships supporting young people, but more could be done to facilitate younger people's engagement with culture as audiences, participants, leaders and makers. In a largely rural county, access to culture is a challenge for many, but a high level of digital connectivity and growing digital capacity bodes well for new ways to make and access culture.