Shropshire Local hub (Shrewsbury)
Unit SU13, Darwin Shopping Centre, Raven Meadows, Shrewsbury, Shropshire, SY1 1PL
| | Opens | Closes |
| --- | --- | --- |
| Monday | 09:30 - | 17:00 |
| Tuesday | 09:30 - | 17:00 |
| Wednesday | 09:30 - | 17:00 |
| Thursday | 09:30 - | 17:00 |
| Friday | 09:30 - | 17:00 |
| Saturday | Closed | |
| Sunday | Closed | |

Our Shropshire Local customer service points offer a place for our residents to talk to friendly council staff face to face and get support.
This service point gives information on council services (from Monday to Friday), together with a wide range of community information.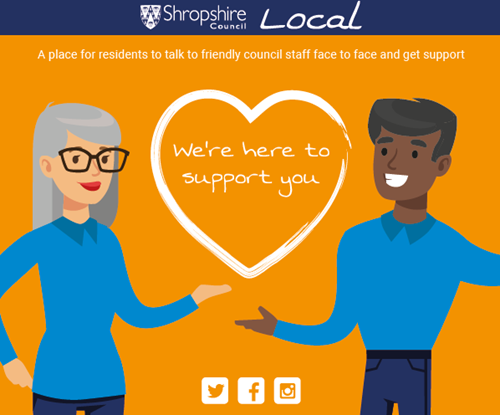 Where are we?
Unit 13 (opposite H&M and just along from the lift) in Darwin Shopping Centre in Shrewsbury
Services available
We provide a range of services, some of which you may prefer to access online. If you don't have a computer at home, you can use our public access computer. You can also report things and make card payments via our web page for some services. Please use the following links to see what you can do online - you may save yourself a visit to our office.
Take a look at our 'Get involved' pages to have your say on current consultations.
Examples of what you can access online include:
Here are some links where you can look for help and information on services: