Solar energy
An environmental good news story
Solar power generation is a good news story for Shropshire Council, growing year on year since 2012 with solar PV (photovoltaic) arrays now installed across 27 sites (1.2MW peak capacity). The total energy generated since 2012 is 7,481,476 kWh.
The carbon dioxide (CO2e) saved so far is 2,551 tonnes (imagine 510 hot air balloons full of CO2 gas or the Albert Hall 4 times over!). This is by not using grid electricity sourced from power stations, which sometimes burn fossil fuels and release the greenhouse gases such as CO2 into the atmosphere.
Solar energy generation has matured as a technology; it's a proven method of generating zero emission electricity with zero noise. The annual predictability of solar ensures that  generation can be reliably forecast, and installation costs have come down because of a 70% reduction in manufacturing costs. Increasing grid-energy costs make solar, alongside other renewables, an attractive proposition. Depending on the time of year, the UK's energy mix from renewable energy typically varies between 30% and 70%.
Fun facts
The solar energy that hits the earth in just one hour is enough to power the entire planet for a year! (see Explaining Science website)
Since 2012 Shropshire Council has generated enough electricity from solar to make 326m cups of tea, or for all the homes in Church Stretton or Broseley for a year.

We've saved 510 hot air balloons worth of CO2 gas which is also enough to fill the O2 Arena.
Further general information regarding solar is available on the NREL website.
Information videos
Orsis monitoring
Schools and academy trusts with solar PV fitted by us use a system called Orsis to monitor their performance.
SolarEdge monitoring
Our newer sites use SolarEdge to monitor their performance:
Greenacres Farm (live link to follow shortly)
Solar financial and carbon benefits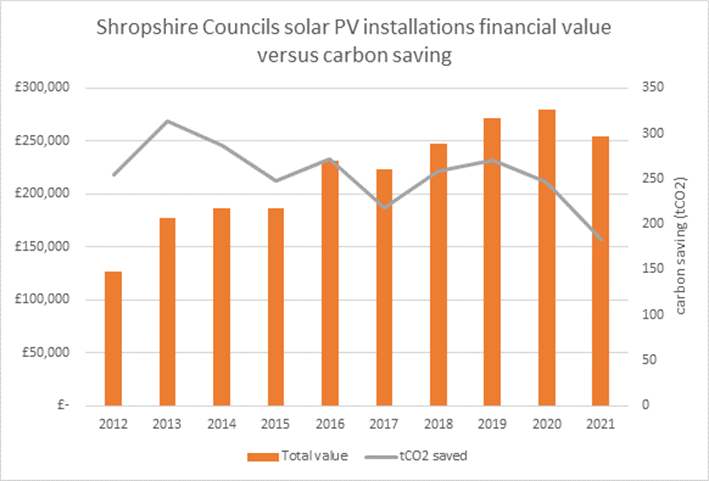 ...where the financial value is a combination of savings from electric plus the feed-in tariff where it applies. A typical solar PV array is guaranteed to work for 25 years, however very early installations still working are now nearly 50 years old.
For any maintenance enquiries please contact Property Services Group.
The map below provides estimates for energy generated and annual financial savings based on system capacity or size (kW):