Actio All In Short Breaks - Activities & Opportunities
21 March 2021
Last updated at 02:21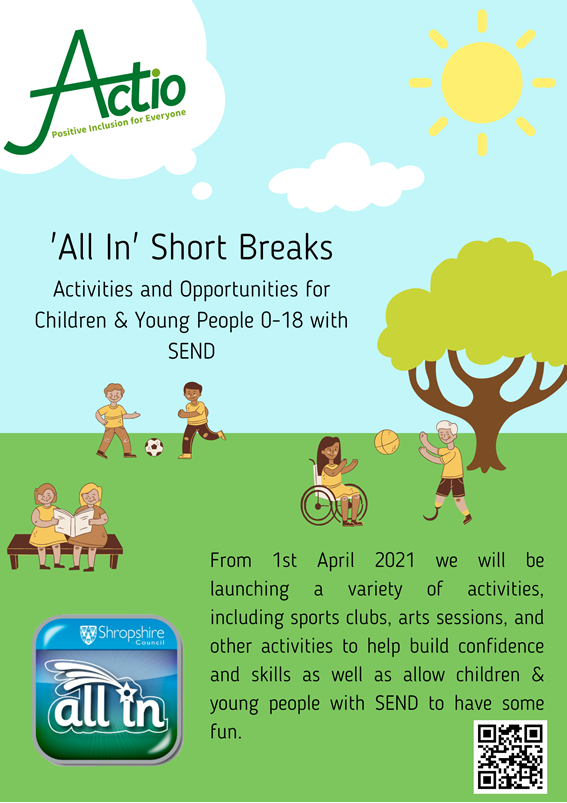 The Actio Consortium has been commissioned by Shropshire Council to manage the All In Short Breaks activity programme on its behalf. All In Short Breaks are leisure activities, specifically commissioned for children (0-18) with disabilities (or additional needs that could be linked to a disability) funded by Shropshire Council and are part of the Council's Early Help offer. The All In Short Breaks programme is part of the wider Shropshire Short Break offer for children and young people with disabilities.

From April 1st 2021 this year's activity offer will be available online for families to explore. We will be releasing more information about how and when activities can be accessed in line with Covid-19 guidance in due course, but we are excited to share with you we have secured a variety of sports, arts, and socially engaging opportunities with both new and existing providers for children and young people to enjoy.
These include:
Theatrical performances specifically designed to be accessible to SEND audiences with workshops running alongside to provide opportunity to try the skills showcased in the performance or work with the featured artists and performers.

Multi sports sessions to try, test, and develop new skills across different sporting disciplines.

Holiday activity clubs, trips, and opportunities.

Dance workshops.

Adventure and outdoor sports pursuits.

A range of term time and holiday activities across various Shropshire wide locations.
We hope the new opportunities offer reflects the feedback families shared with us nearly 18 months ago when we explored All In Short Breaks with families from across Shropshire to help us understand what it does well, how it could be improved, and how we could help it to grow in the future. We are looking forward to inviting families back to the new opportunities as soon as possible.
In the meantime we would encourage those who are not members of the All In Short Breaks programme to sign up. As a member you will be able to book to participate in any of the opportunities that are appropriate for your child/young person. You will also receive a welcome pack with a range of Actio branded gifts, a welcome folder introducing Actio, the All In Short Breaks activity programme, The Shropshire Local Offer, The Shropshire Short Breaks Statement and a USB memory stick with the Actio Activity Passport on which attendance and achievements can be recorded.